Our children are our greatest treasure. They are our future. Those who abuse them tear at the fabric of our society and weaken our nation - Nelson Mandela
If you know of a crime committed against a child, you must report this. Please report this to your closest police station. Or contact the MAB Office closest to you (Gauteng and Western Cape). Although we are not a reporting facility, we will try to assist.
Get your church or congregation to adopt a FCS Unit or court in your area. Please contact our Gauteng office (assistance in Gauteng and Mpumalanga) and Cape Town office (assistance in Western and Northern Cape).
Your help will be greatly appreciated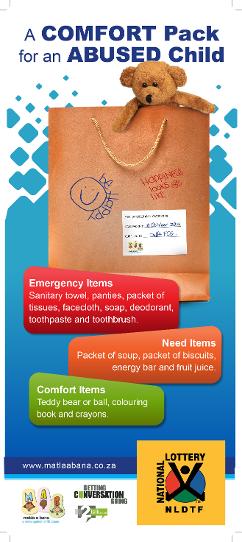 COMFORT PACKS
The comfort packs are given to child rape victims by police officers whey they report the crimes against them. It contains comfort and emergency goods needed during the first hours of reporting. It also assists the police to establish a relationship of trust with the child.
Donate a pack or products for the packs.
Please note that MAB can issue a Form 18A (Tax deductable donation) and a BEE Certificate. Should you require this form please fax or email proof of donation deposit to matlapr@mweb.co.za
BANK DETAILS:
Bank: ABSA Bank Limited
Branch Code: 632005
Account Name: Matla A Bana
Account Number: 4058505741
Swift Code: ABSA ZA JJ
BIC No: 63 20 05
MAKE A CREDIT CARD DONATION